The exfoliant
e 100 ML 3.38 FL OZ
Fight dead skin cells and dullness with this daily exfoliant.
Twist, squeeze and apply on a CLEAN face, then rinse. Exfoliate the feelings away.
BUFFs away dead skin cells: Natural fruit enzymes such as papaya and pineapple work with lactic acid to effectively resurface the skin revealing a clearer and brighter complexion.

Clears the appearance of congestion: BUFF's exfoliating
action helps to remove impurities and excess oil, leaving your skin clean and refreshed. The powerful combination of fruit enzymes naturally exfoliate and target blemishes and clogged pores. Blackheads beware.

Enhances skincare absorption: By exfoliating regularly with BUFF, you create a clean canvas for your skincare products to penetrate deeper into your skin. This means that your moisturizers, serums, and treatments can work more effectively, delivering the benefits you're looking for.

Gentle yet effective: BUFF is formulated with natural beads
and fruit enzymes, making it suitable for daily use. BUFF is gentle, while still packing a punch.

Boosts collagen production: Formulated with mango fruit
extract to restore skin elasticity and boost collagen production in the skin to diminish fine lines and wrinkles. This superstar fruit extract is an excellent emollient that helps to hydrate and repair dry skin.

Calms, soothes, reduces redness: Radish root ferment and aloe vera work together to replenish skin's moisture levels while reducing inflammation. In addition to it's anti-inflammatory benefits, radish root ferment is an effective acne fighter thanks to its antibacterial and antimicrobial properties.
Aqua (Water), Glycerin, Cellulose, Propanediol, PEG-40 Hydrogenated Castor Oil, Carica Papaya (Papaya) Fruit Extract, Mangifera Indica (Mango) Fruit Extract, Sodium Hydroxide, Lactic Acid, Bromelain, Leuconostoc/Radish Root Ferment Filtrate, Citrus Aurantium Bergamia (Bergamot) Fruit Oil, Aloe Barbadensis Leaf Juice, Citrus Aurantium Dulcis (Orange) Peel Oil, 1-6 Hexamethylene Disocyanate, Trisodium Ethylenediamine Disuccinate, Sodium Polyacrylate, Xanthan Gum, Carbomer, Phenoxyethanol, Chlorphenesin, Potassium Sorbate, Sodium Benzoate, Limonene, Linalool.
FREQUENTLY ASKED QUESTIONS
Q: What is the texture? Is it gritty?
A: This exfoliator contains micro-beads that gently buffs the skin. Picture your favourite cleanser, with soft physical exfoliating properties. Looking for a bigger punch? Apply BUFF with our soft silicone applicator and leave on the skin for 15 minutes.
Q: Is BUFF suitable for all skin types?
A: Dry patches, dullness, dehydration, pigmentation, red bumps, uneven skin tone, acne? Meet your match.
Q: What makes this exfoliator better than other exfoliators?
A: While there is a sea of ever-evolving exfoliants on the market, BUFF's unique triple action exfoliation provides results that pack a punch. We've been working on BUFF for a long time - 3 formula changes, 2 packaging upgrades, it is 8 years in the making. As one of our best-selling hero products, we took our time to make BUFF right. You don't need multiple exfoliants - you just need one really good one.
Q: Is this product pregnancy and breastfeeding safe?
A: All our skincare products are pregnancy and breastfeeding safe. Because we love you.
Q: Do I need to physically work the product into my skin to experience the exfoliating benefits?
A: BUFF contains both physical and chemical exfoliation. AKA, we designed BUFF to have triple exfoliation action so you can get the most out of your exfoliant.
While we recommend using the applicator (it makes for a great experience), the formula packs a punch. BUFF's specifically formulated with pineapple and papaya enzymes and lactic acid to effectively eat away build up and dead skin cells.
Q: The Radford OG's apply this as a face mask with TONE. Should I do this too?
A: If you know, you know. Mix a dime size amount of TONE into BUFF and leave on your skin for 15 minutes, then rinse. Watch this powerful duo transform your dull, congested skin into a clear, bright complexion.
View full details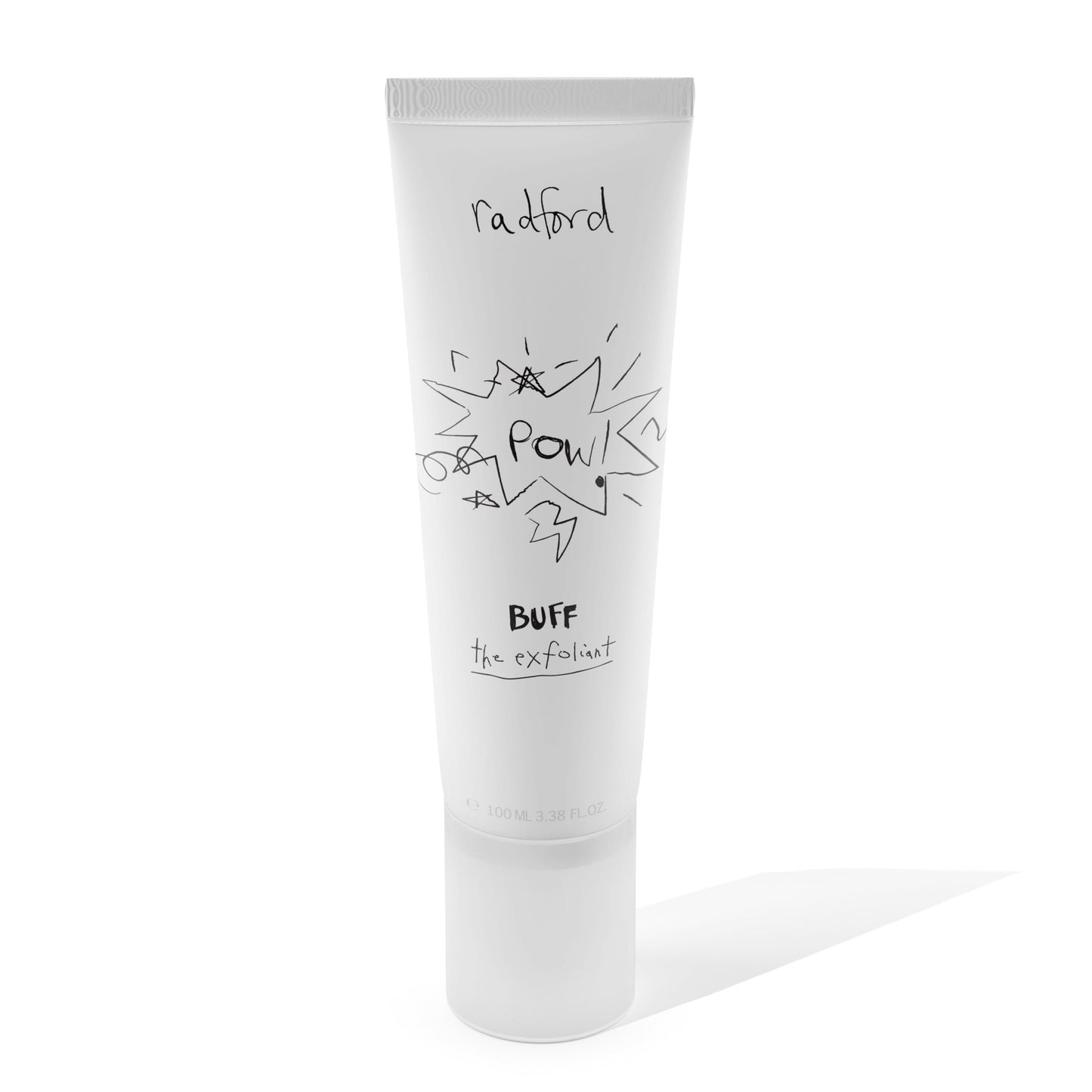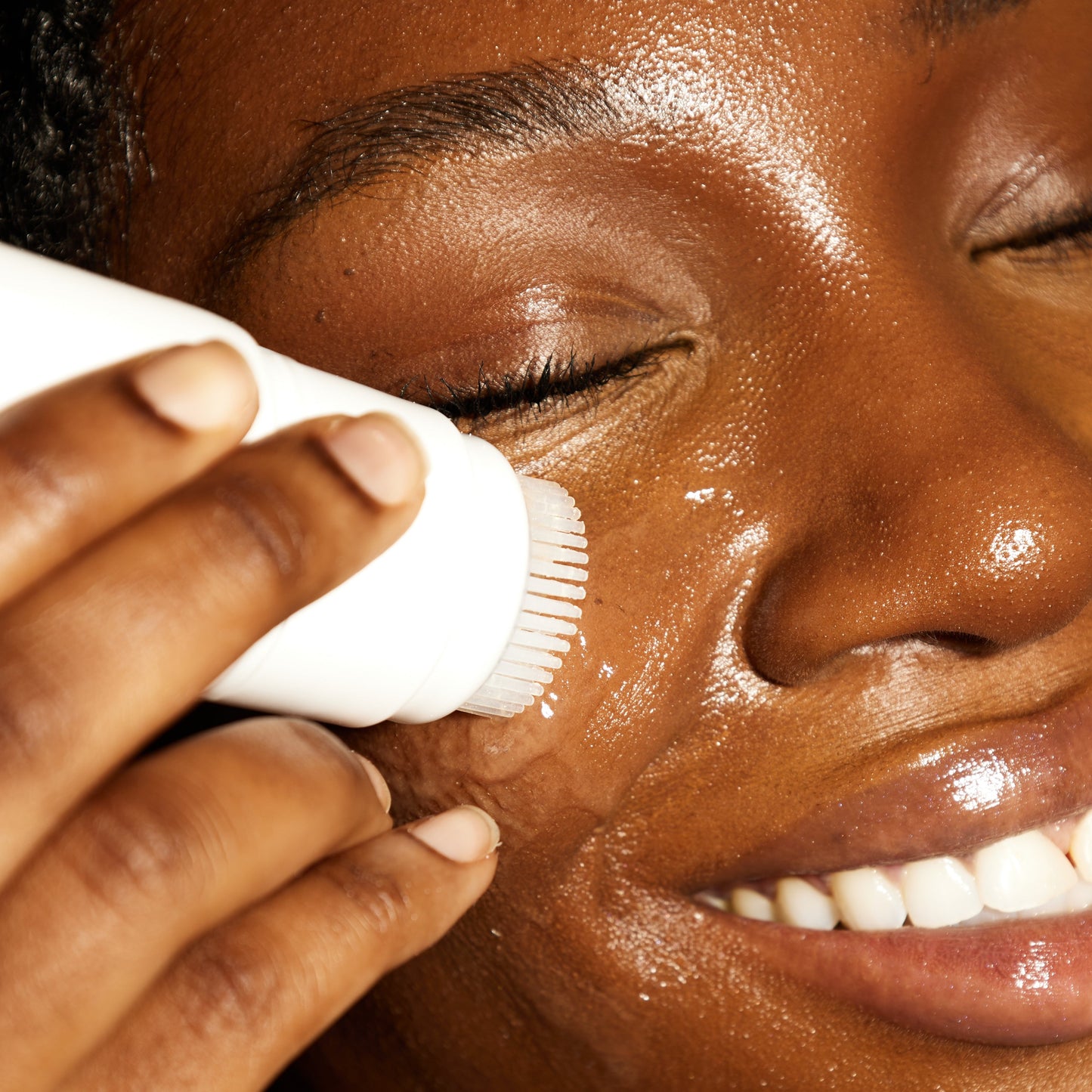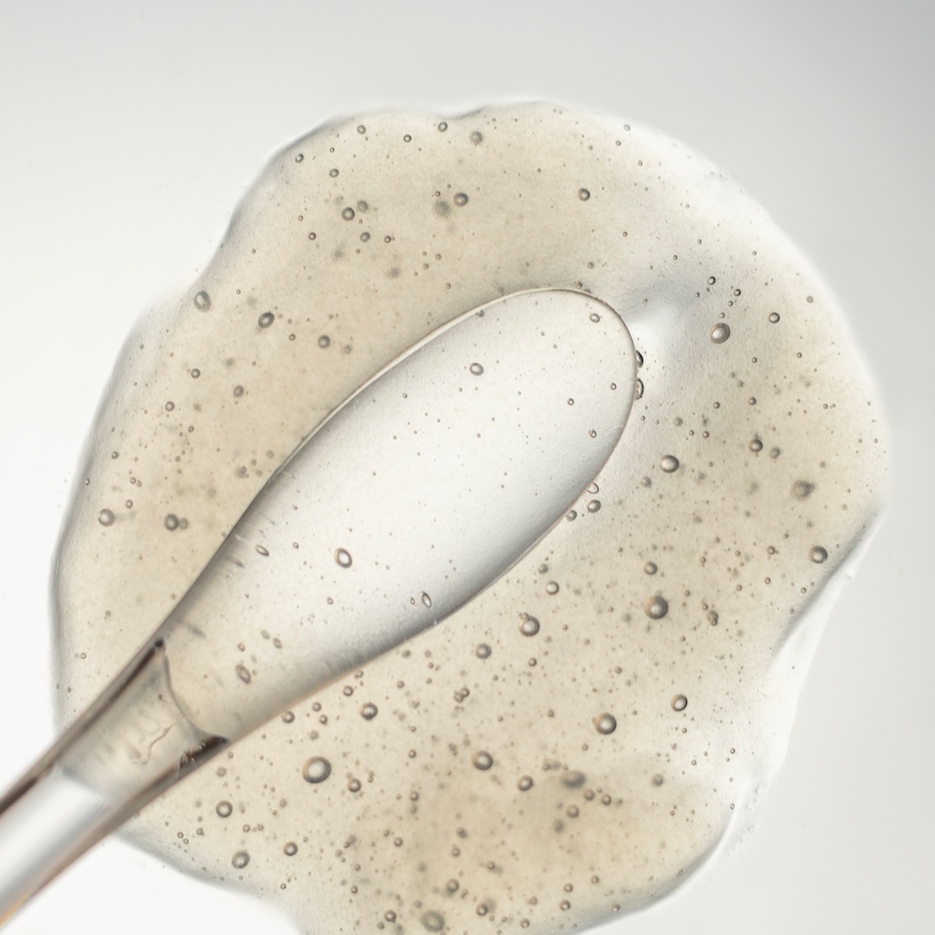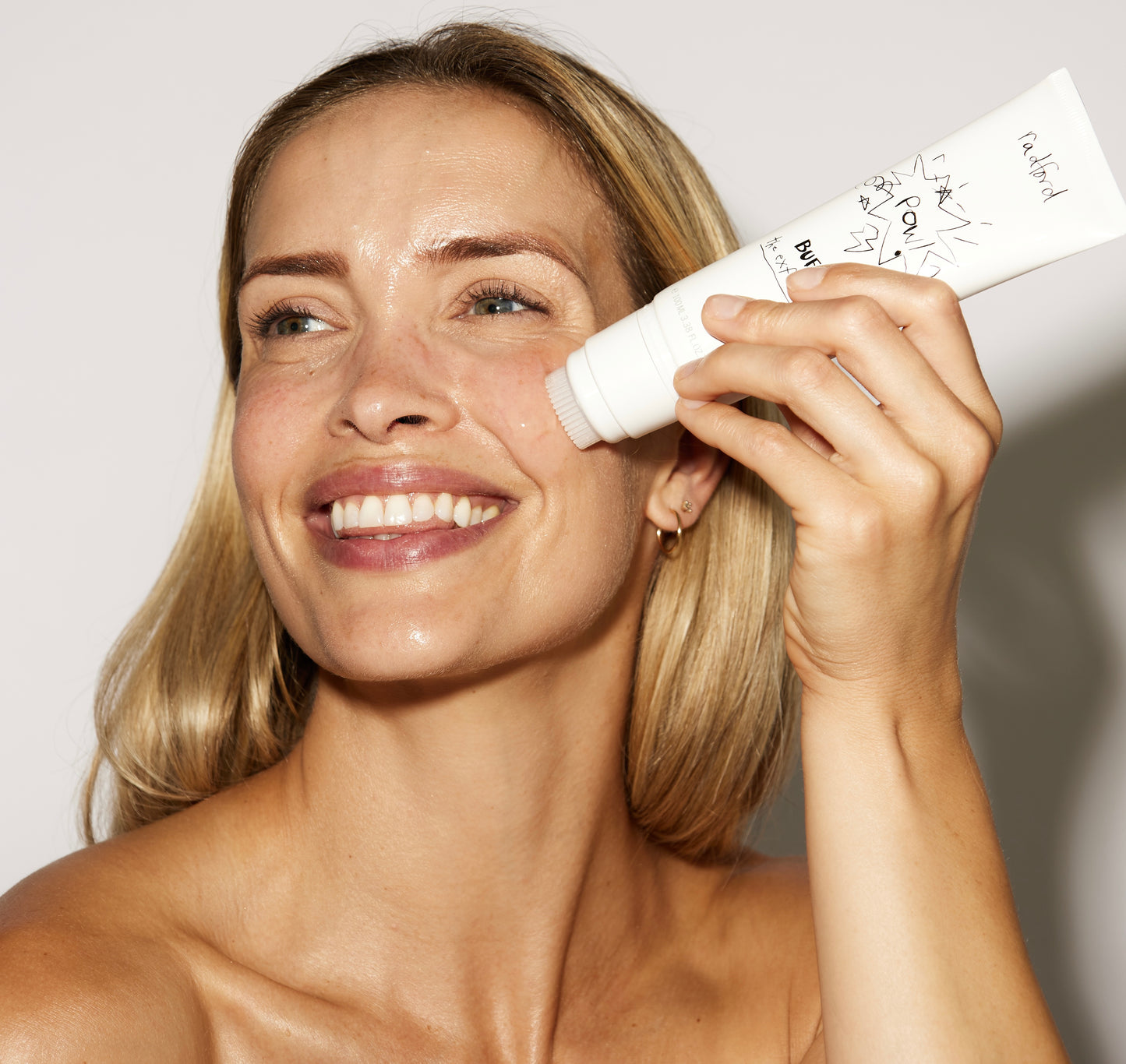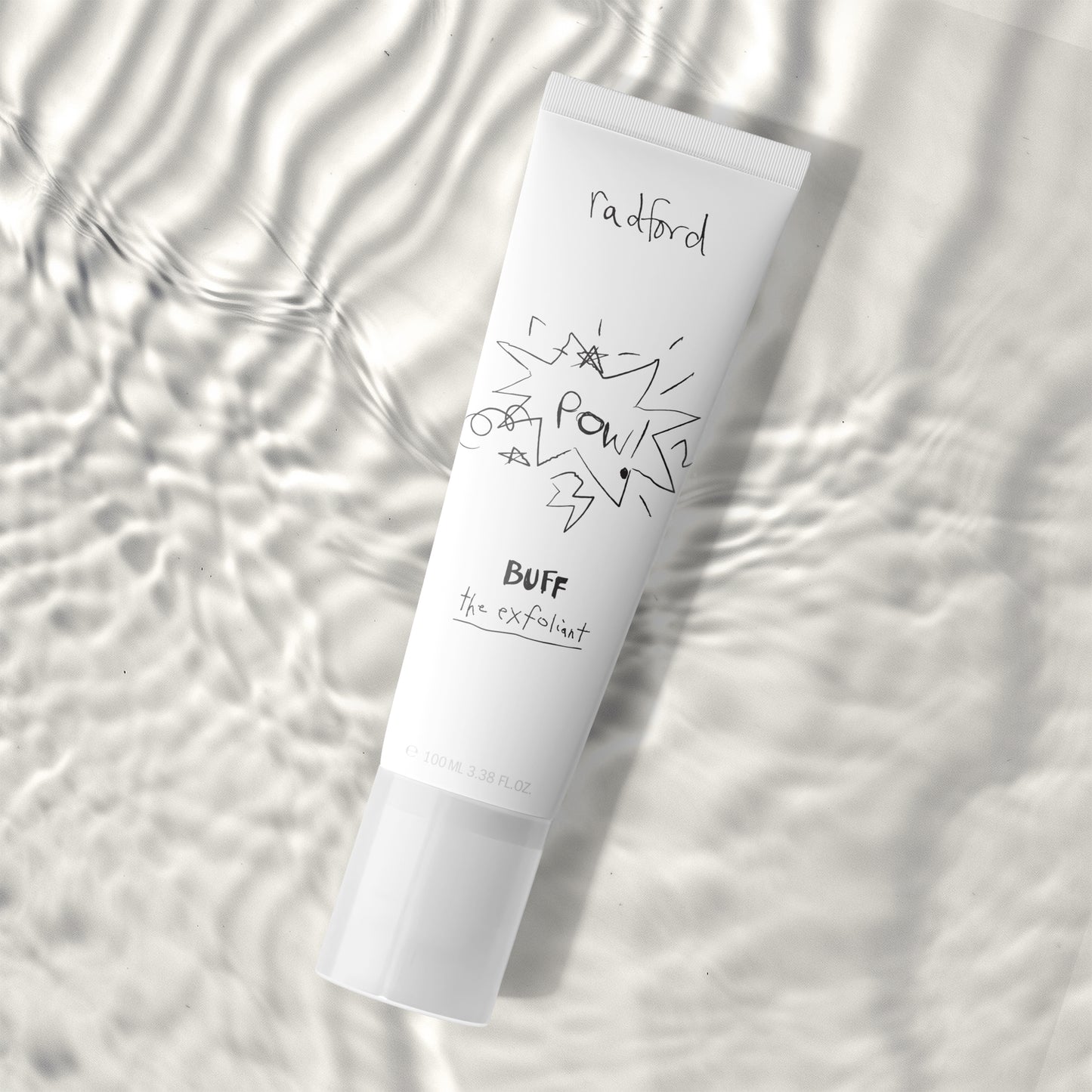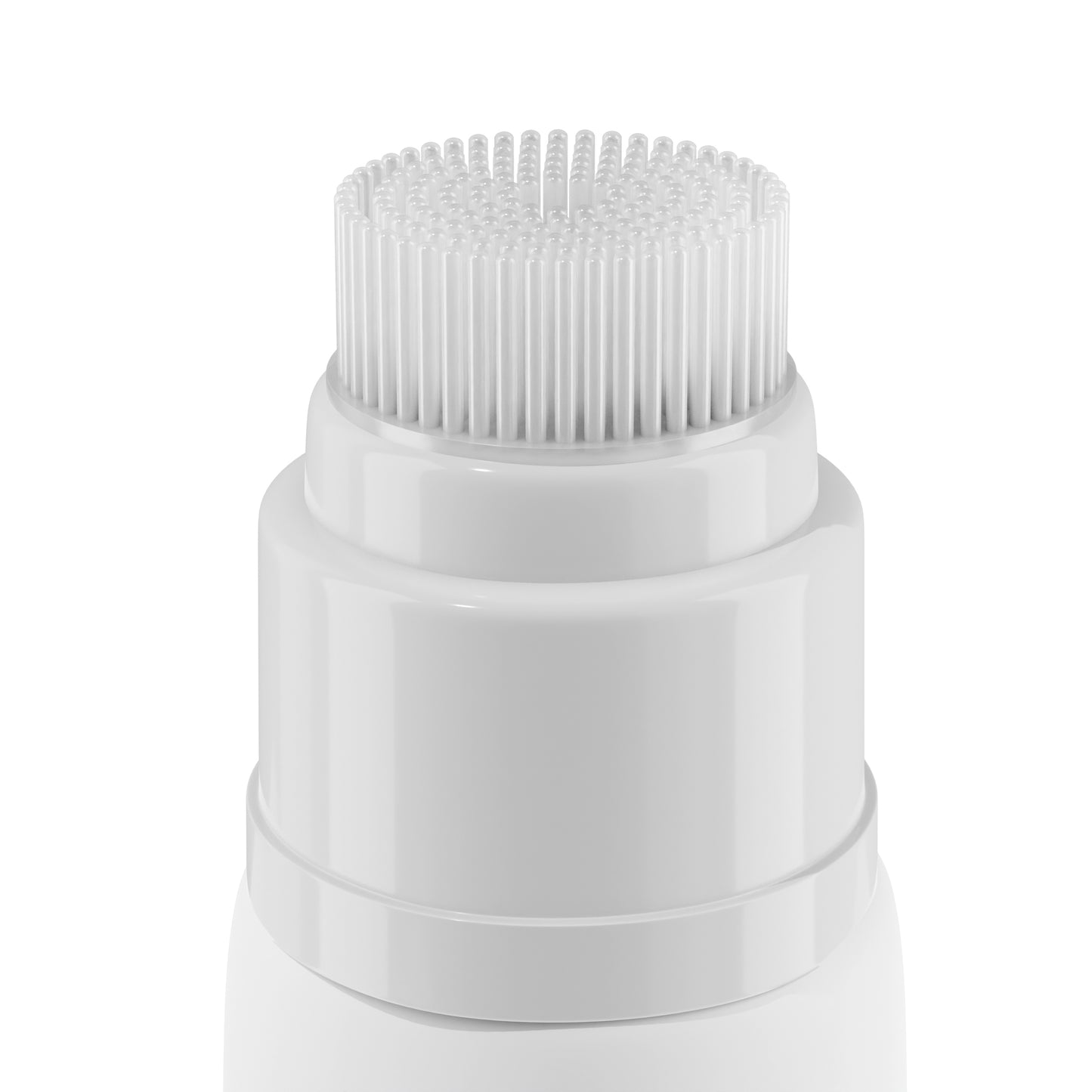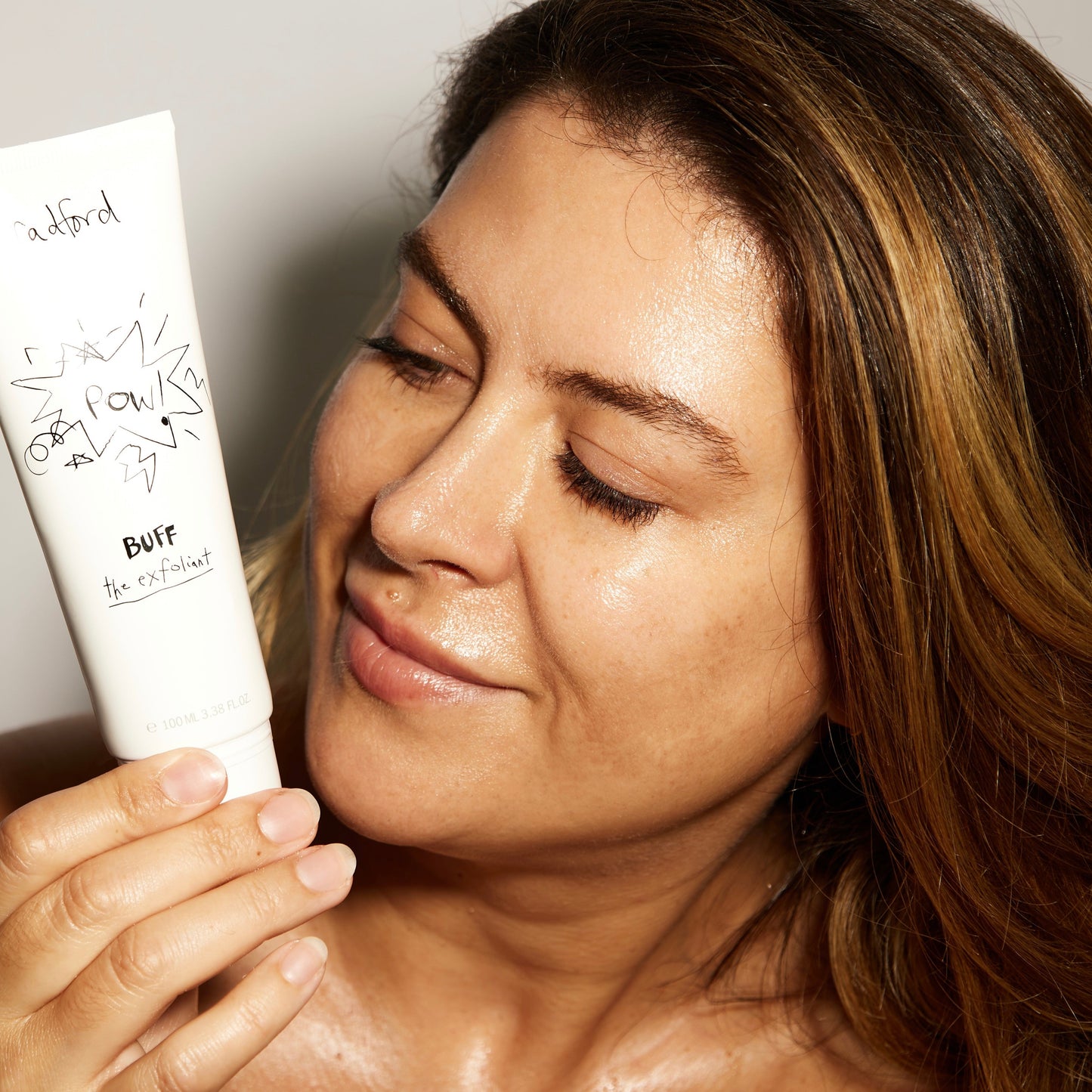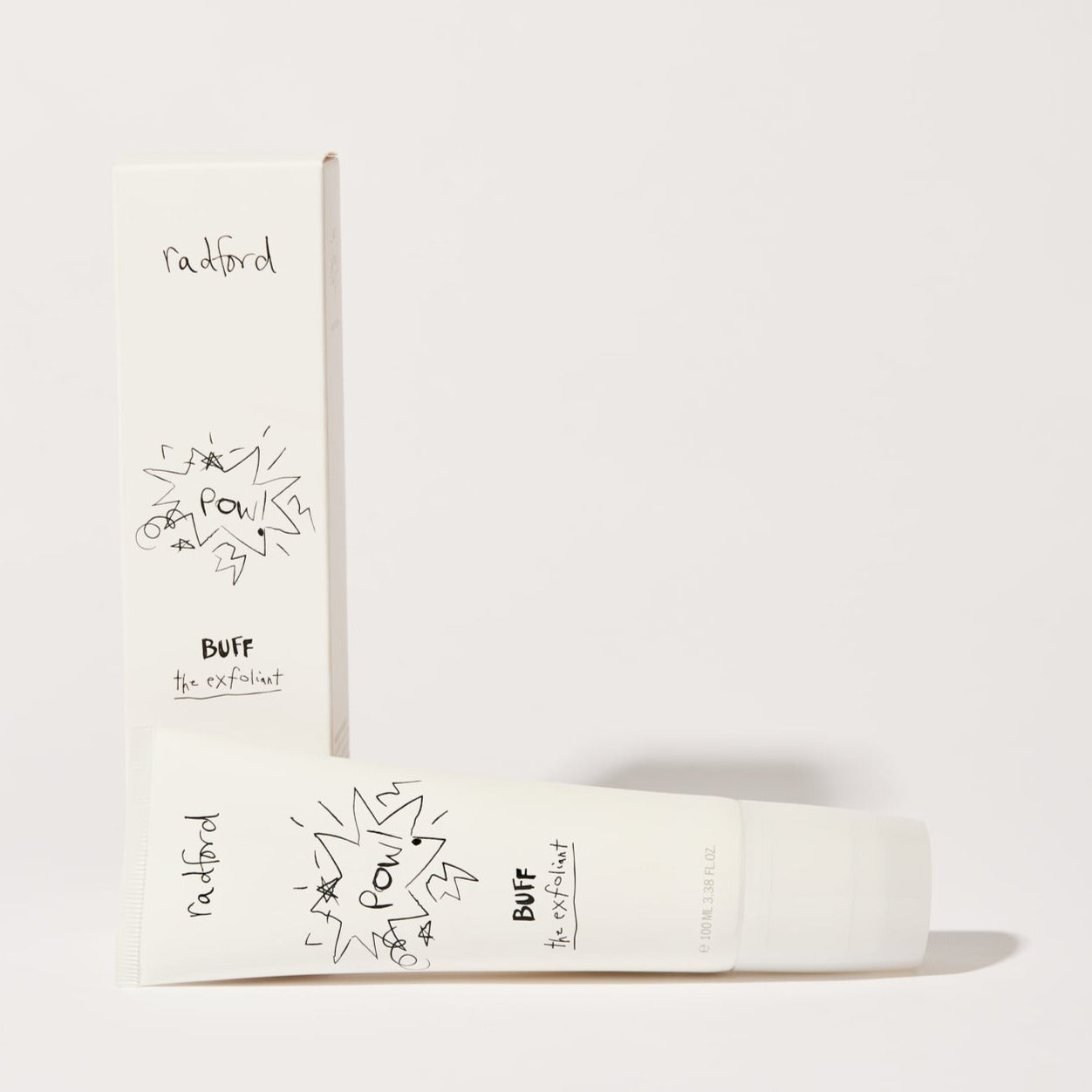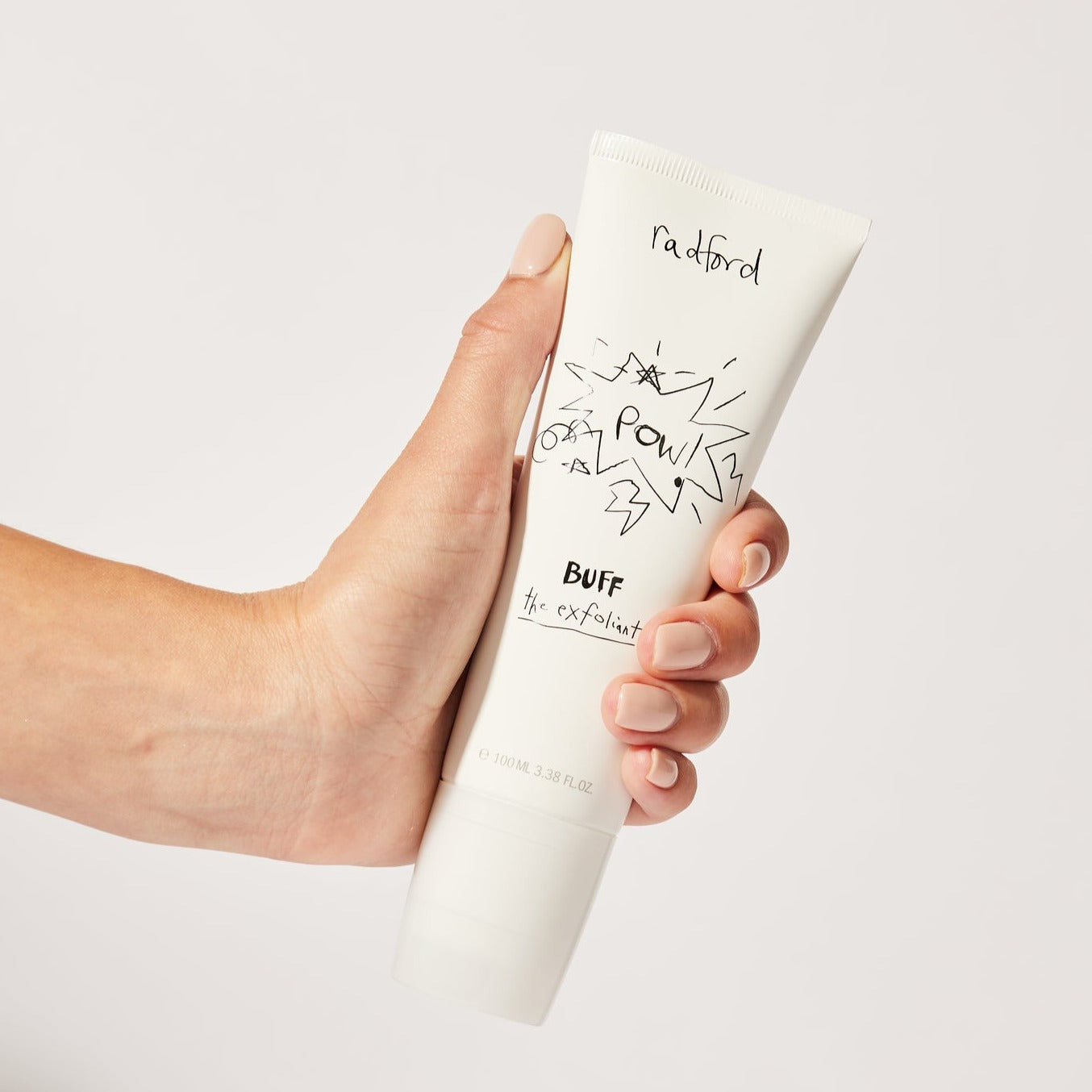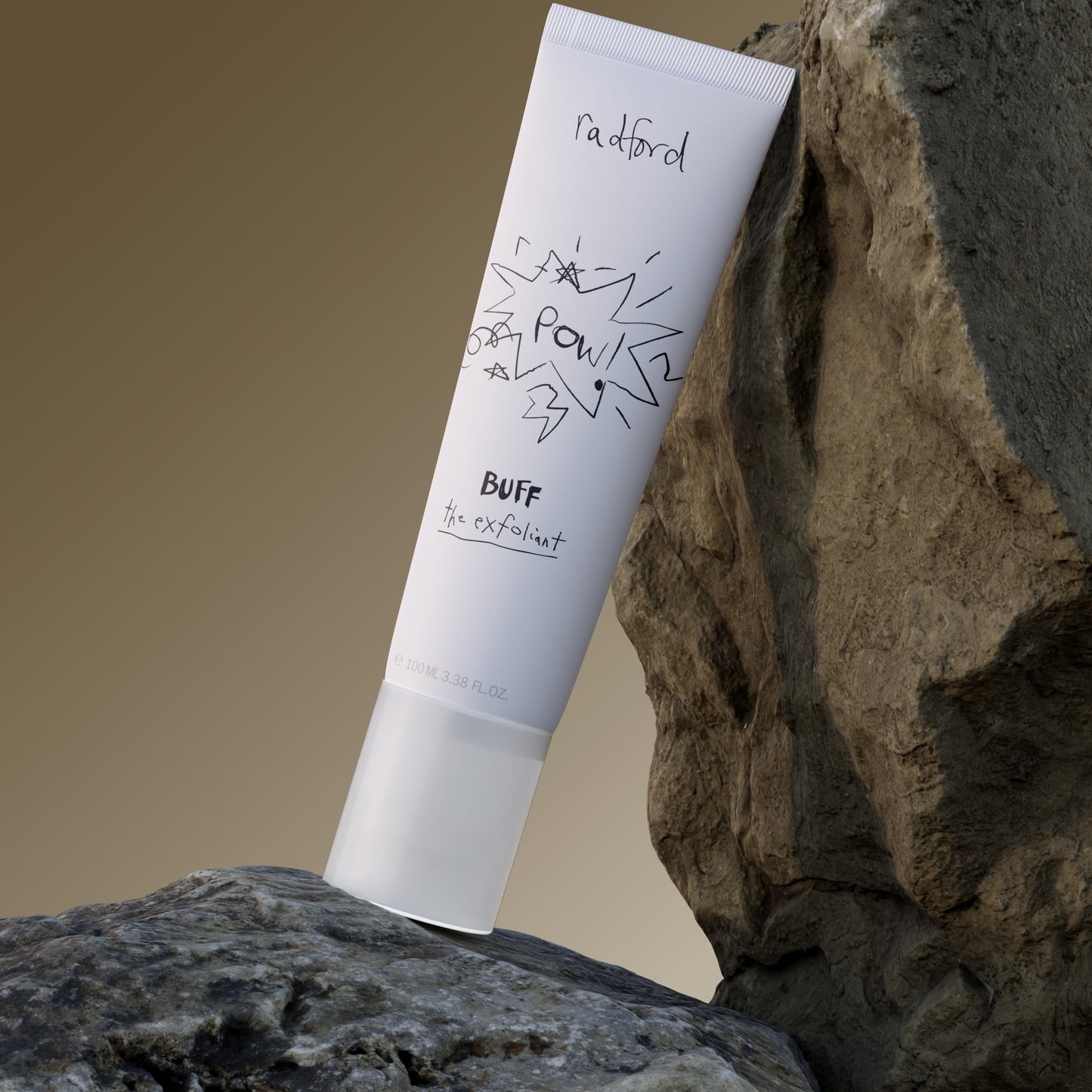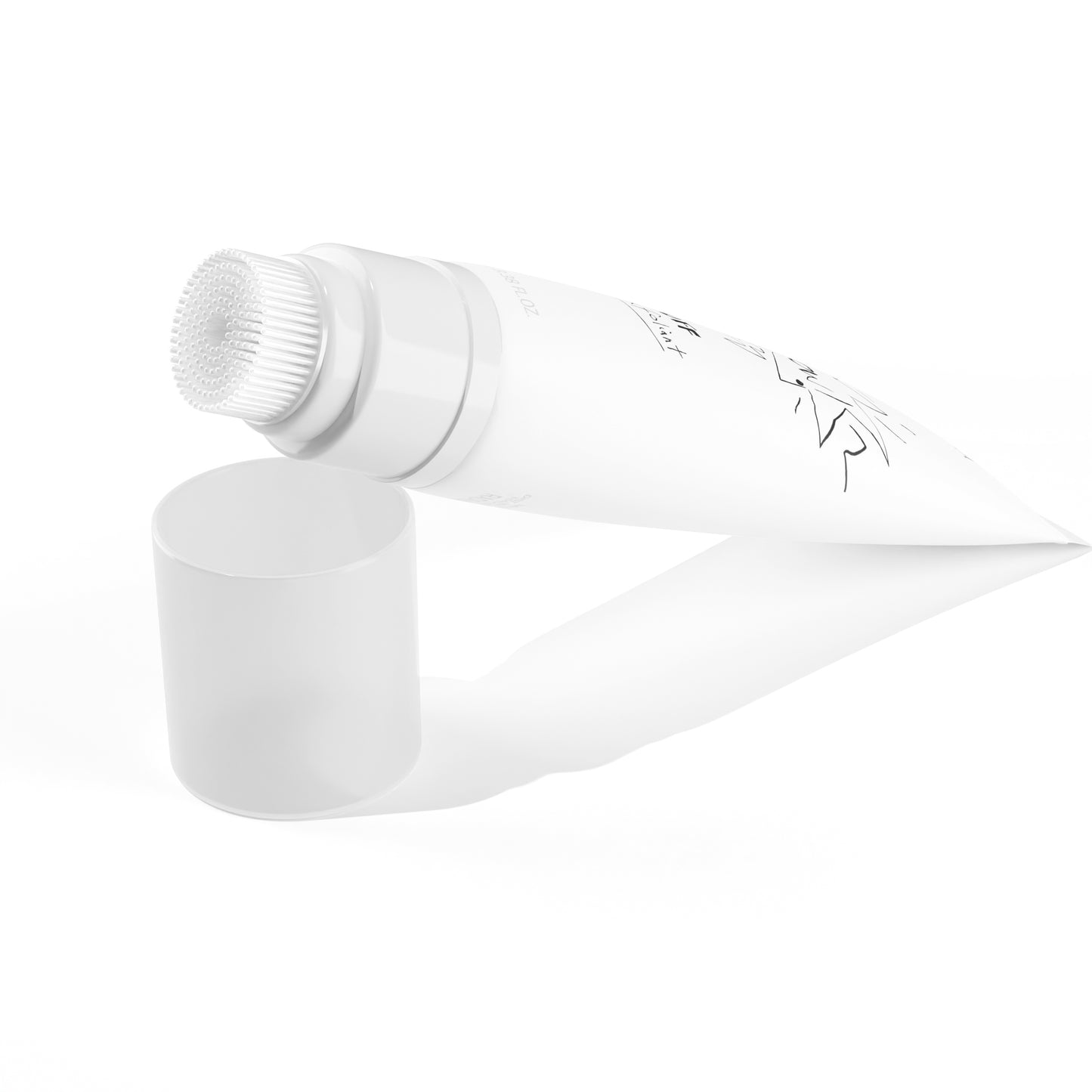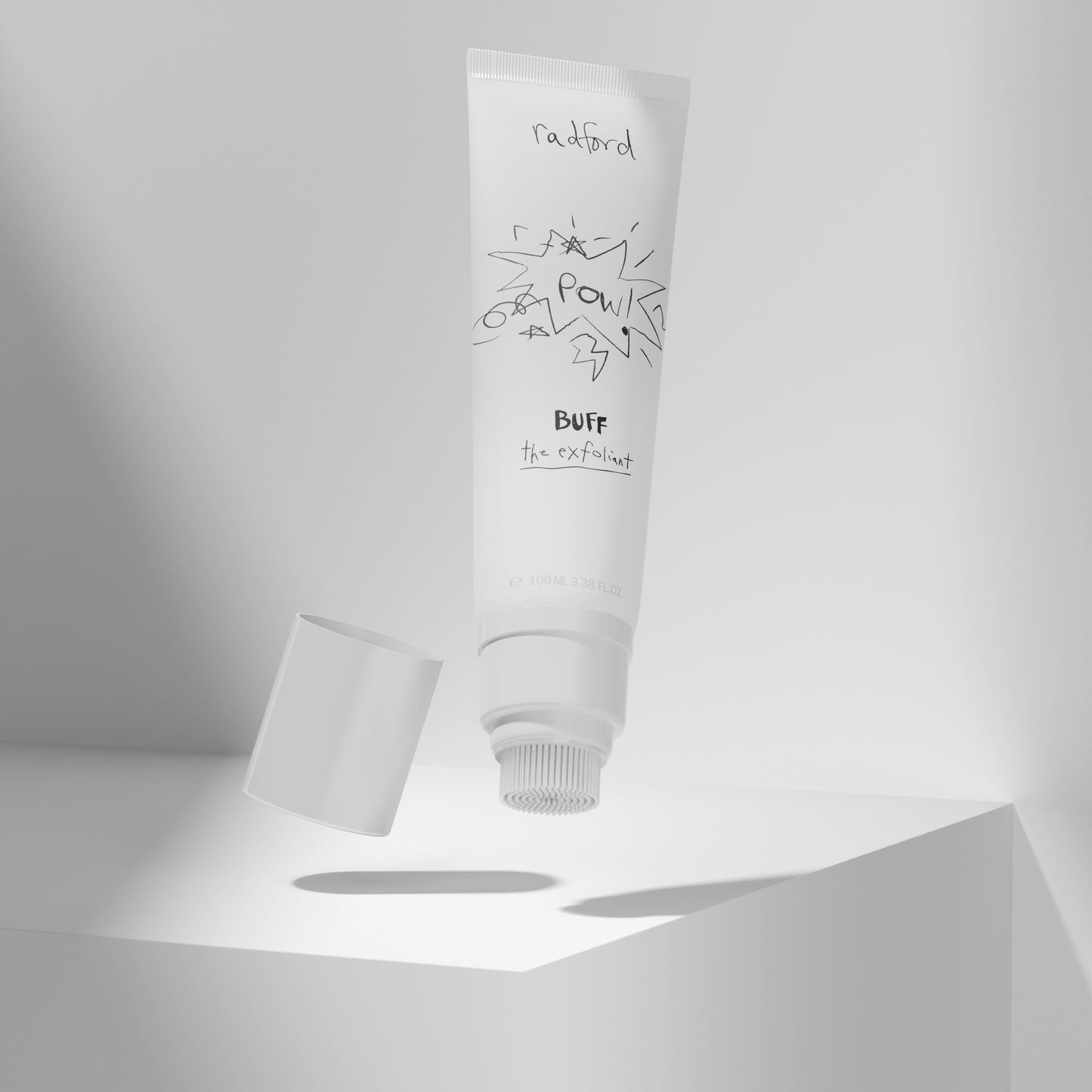 Exfoliate the feelings away
meet our medical-grade silicone applicator
Red bumps, uneven skin tone, texture, acne, dullness…
Meet your match
use if you want the smoothest skin ever
(Thank us later + don't settle for less).
this skin superhero packs a punch
Keep oil production, clogged pores and dullness in check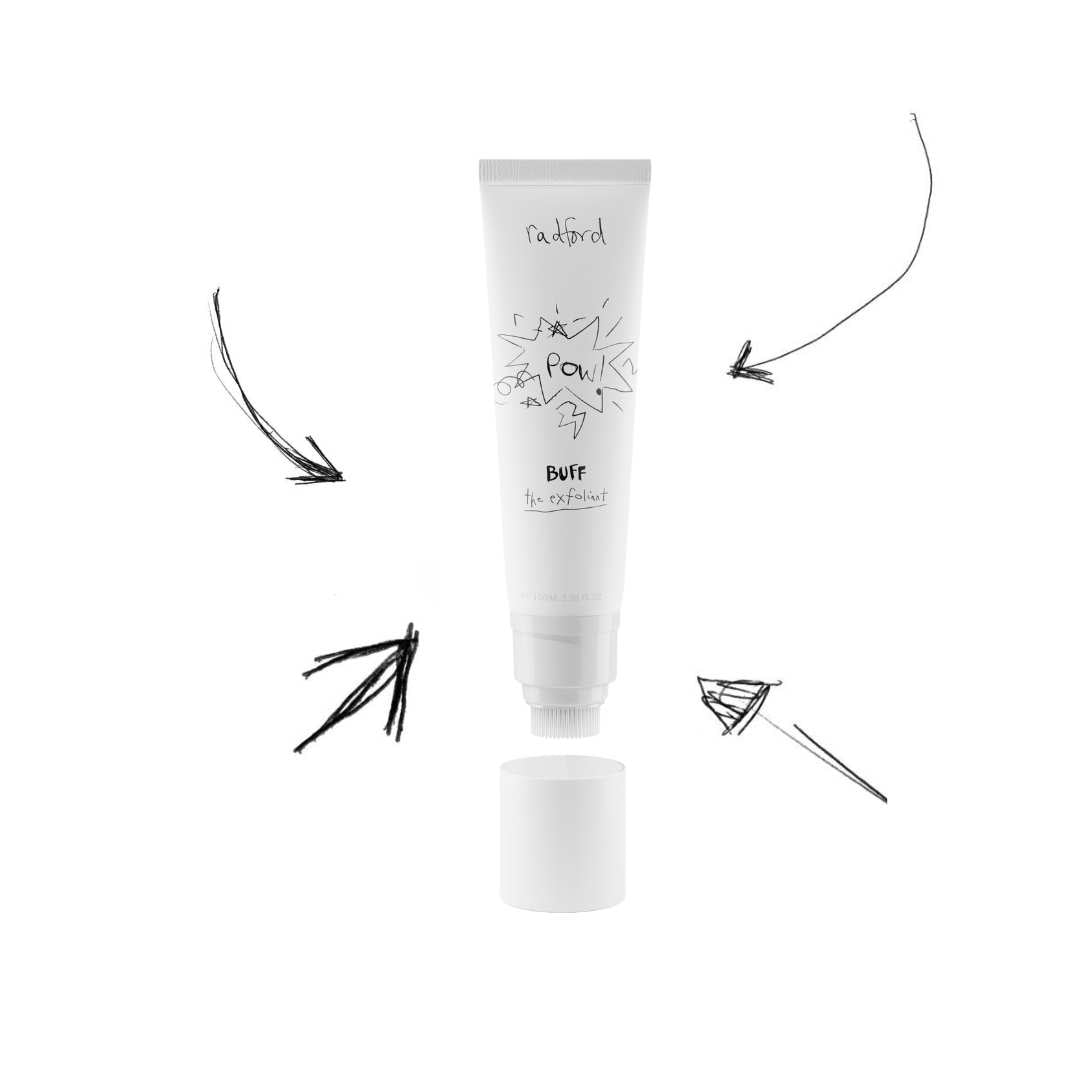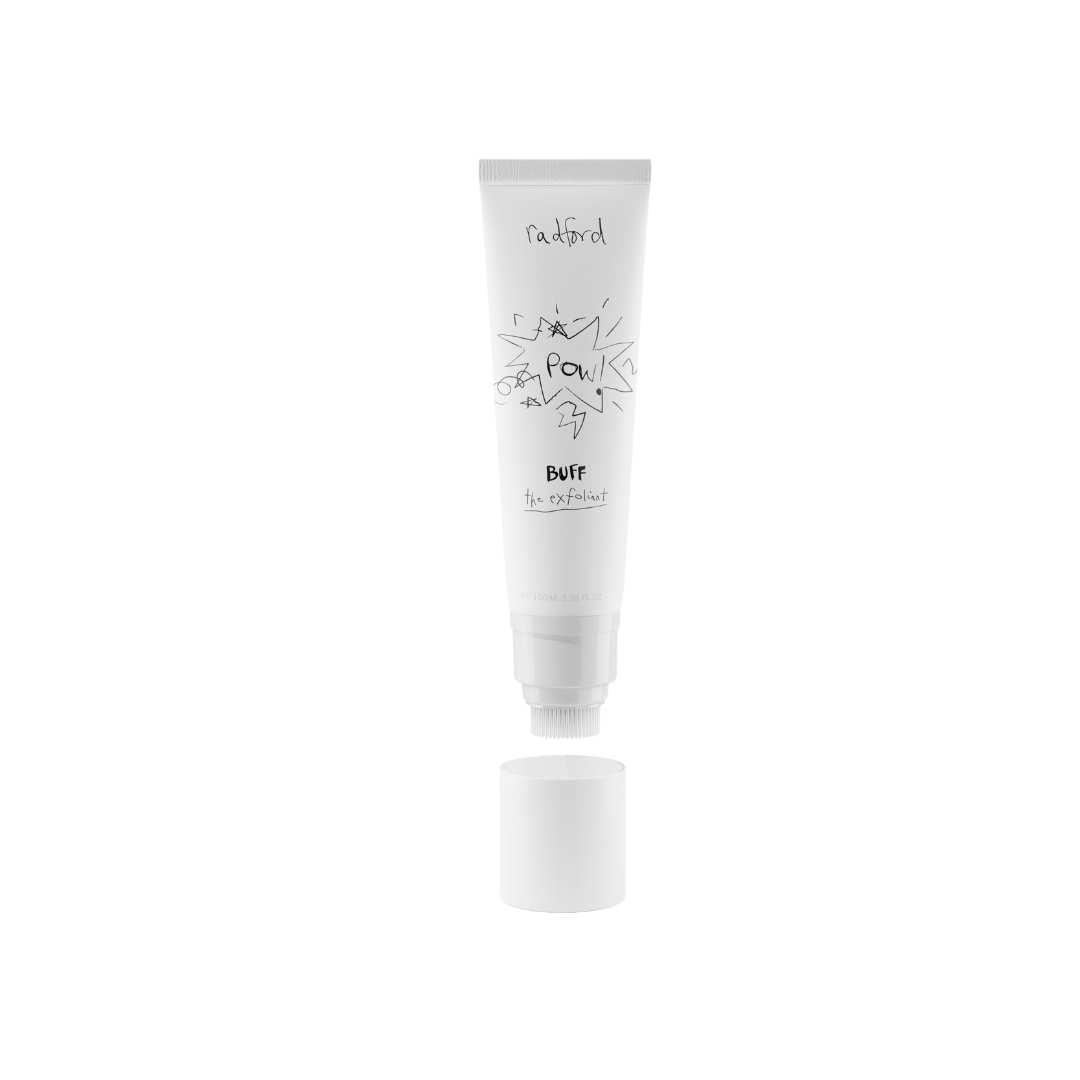 an expert on skincare inside every bottle --
trust us or don't -
an expert on skincare inside every bottle --
trust us or don't -
an expert on skincare inside every bottle --
trust us or don't -
an expert on skincare inside every bottle --
trust us or don't -
an expert on skincare inside every bottle --
trust us or don't -
an expert on skincare inside every bottle --
trust us or don't -
It's the
inside

that matters

Pineapple + papaya enzymes
pineapple + papaya enzymes
This dream team work together to provide natural exfoliating action by helping to remove dead skin cells and assist in skin cell renewal. Their unique concentration of vitamins and antioxidants are known for their transformative effects on the skin by diminishing dark spots, calming inflammation and brightening over all skin tone.

mango fruit extract
mango fruit extract
Naturally high in vitamins A, C + E, mango fruit extract is a superstar ingredient that mitigates sun damage, increases skin elasticity, diminishes dark spots and eliminates dead skin cells to naturally replenish the skin's nutrition. While resurfacing the skin, it deeply hydrates the moisture barrier, promoting a more youthful layer of the skin to come through.

lactic acid
lactic acid
A plant-derived AHA (alpha-hydroxy acid) that helps smooth the look of fine lines. This superstar reduces
visible signs of aging through exfoliation and dramatically smoothes away visible sun damage and dead skin cells. Your answer to healthier-looking skin.

Radish root ferment
radish root ferment
The peptide of all peptides. Known for its anti-inflammatory properties, radish root can help reduce swelling and redness in the skin. Thanks to its antibacterial effects on the skin, it is also an effective acne fighter by gently inhibiting growth of active bacteria on the skin's surface.
Your words, not ours
Charley
I am so glad that Buff is finally available. It's my favourite of the Redford line. I love all the products.
I always order more before I need to order more.
It's the best, I always have it on hand.
best exfoliator on the market!!
the formula is ✨chef's kiss✨ but the applicator is TO DIE FOR. it's like an at-home facial: my skin is SO soft after i use Buff and i get 0 irritation (i have super sensitive skin). LOOOVE!! so worth it
Buff makes my face feel and look SO smooth
Buff is so easy to use and really makes such a difference. My ski feels and looks so smooth and bright! Thank you Radford for an amazing product!
Makes my skin feel so soft!
Absolutely love this product. I just got my second bottle and can't say enough about it. I use it every morning before my skin care routine and it makes my skin feel brand new! Love!!
an expert on skincare inside every bottle --
trust us or don't -
an expert on skincare inside every bottle --
trust us or don't -
an expert on skincare inside every bottle --
trust us or don't -
an expert on skincare inside every bottle --
trust us or don't -
an expert on skincare inside every bottle --
trust us or don't -
an expert on skincare inside every bottle --
trust us or don't -